Sustainable business
Focus on long-term value creation
Vitrolife's vision – To fulfil the dream of having a baby – by developing, producing and marketing advanced, effective and safe products and systems for fertility treatment, gives the business a clear purpose and responsibility. The Life Science industry is characterised by high demands on product safety and regulatory compliance and for Vitrolife sustainability is a self-evident and natural part of the growth strategy.
Vitrolife strives to make a real difference for a sustainable future by ensuring a long-term responsible business development aligned with the UN's 17 sustainable development goals in relation to the Group's impact. The work on sustainability secures the Group's long-term competitiveness, profitability and responsibility and builds on transparent and reliable relations with the Group's stakeholders, such as shareholders, customers, employees, suppliers and society at large.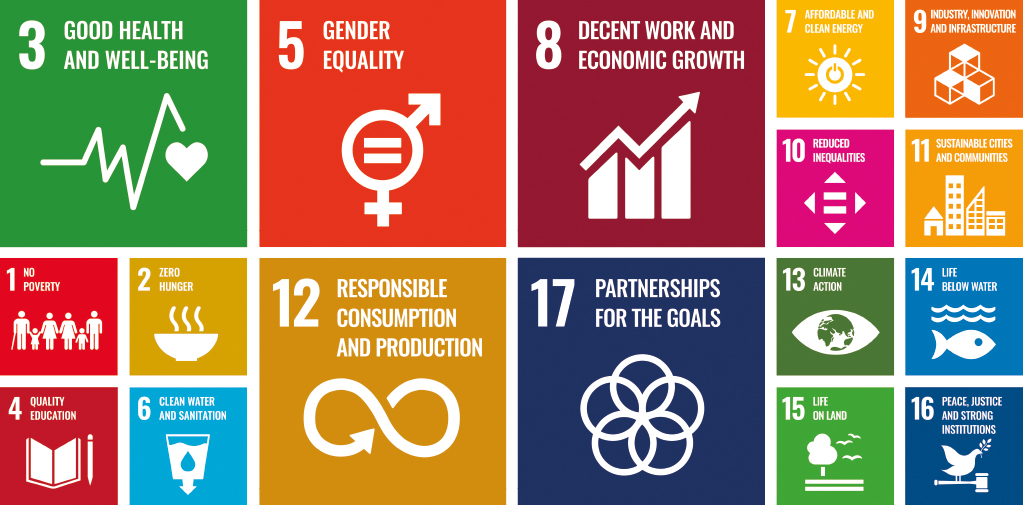 The goals are universal and interconnected. Therefore all 17 sustainable development goals contain parts that are relevant to Vitrolife, e.g. themes such as health, well-being, climate and equality. Five of the goals have extra relevance for Vitrolife's business, with greater and more direct links to both risks and opportunities for the Group.
Vitrolife is a certified "Nasdaq ESG Transparency Partner". A certification that is awarded to Nasdaq-listed companies that actively work on sustainability issues and related reporting. This is confirmation of Vitrolife's desire to be transparent vis-à-vis the market in respect of the Group's sustainability status with regard to current and future investors, employees, customers and other stakeholders. Read more about the certification here.
In 2021, Vitrolife received a rating of AA in the MSCI ESG Ratings assessment. MSCI ESG Research provides in-depth research, ratings and analysis of the environmental, social and governance-related business practices of thousands of companies worldwide. Their research is designed to provide critical insights that can help institutional investors identify risks and opportunities that traditional investment research may overlook. The MSCI ESG Ratings are also used in the construction of the MSCI ESG Indexes.
The work on sustainability is controlled and followed up in our overarching corporate management system and has objectives and metrics relevant to the business. Company management is responsible for strategy and follow-up of the results of the work. A member of the company management team has functional responsibility for the Group's work on sustainability. The most important sustainability issues in relation to the company's impact and stakeholders interest are competent employees, quality-assured products, responsible business and minimal environmental footprint.
For more information and the complete sustainability report, please see pages 15-23 in Vitrolife's Annual Report 2020.
Competent employees
Vitrolife is a knowledge-intensive business Group where the employees are the single most important asset for the Group's long-term competitiveness and profitability. Vitrolife has identified competence development, equality and collaboration as critical sustainability factors for developing employees' competence and well-being.
Vitrolife's goal-oriented work to create an attractive and sustainable workplace for all employees is a key factor in the Group's success. Equality has been identified as a prioritised issue, so as to be relevant as an employer for current and future employees. In order to be able to detect and rectify any imbalances, Vitrolife has chosen to follow up gender distribution at various job levels in the Group.
It is important for Vitrolife to be an employer that maximises and makes full use of the competence that is to be found in the Group's employees. During 2020 the results of the employee survey showed that the thorough work produces results. eNPS, which stands for Employee Net Promoter Score and measures how willing employees are to recommend their workplace to friends and acquaintances continued to increase. An eNPS score can vary from -100 to +100. A score over 0 is good, over +20 is very good and over +50 is outstanding. Vitrolife's eNPS increased from +25 in 2019 to +31 in 2020. The results from 2020 generally show very high employee commitment in the light of external comparative data and all indices showed an improvement. This confirms that Vitrolife's managers and employees were very skillful in adapting in the unprecedented times that 2020 involved due to the pandemic.
Quality-assured products
Vitrolife's business comprises the product's entire value chain, from research, development and production to distribution and sales. Most of the products are categorized as medical devices. Through its quality system and quality policy, Vitrolife has committed to following the rules stipulated by the authorities in each country where the products are sold or distributed. The goal is that through long-term customer relations, clinics and patients shall be treated in a sustainable manner. This is achieved when each product distributed to a customer is meeting the promised quality, which in turn enables effective treatment.
Vitrolife's products are sold worldwide. Customer comments are regularly compiled and are reported to executive man­agement. Vitrolife measures customer satisfaction as the main measure of perceived quality. Vitrolife has a method for measuring customer satisfaction whereby the Group's customers are asked via a questionnaire if they would be willing to recommend Vitrolife as a partner to other clinics in the IVF field. The customers selected are direct customers (not distributors) who have made purchases in the past 12 months. Willingness to recommend is measured on a scale from 0 to 10, where 10 is the best grade. Vitrolife received a very positive response from the customers despite the current pandemic. 85% of the customers gave Vitrolife a score of between 8 and 10, which is an improvement compared with last year and the same percentage of customers (85%) were satisfied with the service and support that Vitrolife gave during 2020.
Responsible business
Vitrolife works in line with the UN Global Compact regarding human rights, working conditions, the environment and anti-corruption. Since responsible business conduct is a critical sustainability issue, both to reduce the risk of breaking the law and as a competitive advantage in recruiting and external collaboration. Vitrolife pays tax in every country where business is conducted pursuant to current legislation and OECD guidelines for fair distribution of results, which contributes to the development of the local society in each country.
To ensure that Vitrolife's business is run in accordance with local legislation, international and national norms and regulations and Vitrolife's own norms, all employees and business partners receive training in Vitrolife's Code of Conduct. There is also a clear compliance programme to increase awareness of healthy business practices and to be able to detect, prevent and counteract any unethical behavior in the business.
In 2020 the Code of Conduct was reinforced with a separate policy that gives guidance to employees and business partners on cooperation with health care and medical care actors and care staff. Vitrolife requires all employees and distributors to sign and comply with Vitrolife's Code of Conduct. The distributors thereby certify that there are no forms of forced labor, child labor or bribery. All distributors have signed Vitrolife's Code of Conduct. When selecting and qualifying suppliers with regard to the purchase of materials for production, one of the selection criteria is that suppliers comply with and work in accordance with Vitrolife's Code of Conduct. Vitrolife works together with established suppliers, mainly in the EU and the US.
A digital whistleblower function, that reports directly to the Group's Vice President Global HR and Sustainability and Vitrolife's Chairman of the Board. That is available for all employees and external stakeholders to report any deviations from Vitrolife's Code of Conduct. Reporting can also be done anonymously. Link to external partner for whistleblower function.
Vitrolife's Code of Conduct
Minimal environmental and climate footprint
Vitrolife works systematically to reduce the environmental footprint of all its business. In line with this, the head office, including the production facility in Gothenburg, is certified in accordance with the environmental management system standard ISO14001.
By mapping sources of emissions in accordance with the GHG protocol, Vitrolife can also work strategically on direct measures to shed light on and reduce a negative impact on the climate and restrict business travel. Examples of activities are more effective coordination of the transportation of goods, limiting business travel and carrying out life-cycle analysis of products.
A life cycle analysis of one of Vitrolife's most important products, EmbryoScope+, was carried out in 2020. Greenhouse gas emissions linked to the manufacture, installation, maintenance, use and recycling of the product were calculated. The total GHG footprint is calculated to amount to 21.3 tonnes of CO2. Maintenance-related emissions related to service technicians' travel and energy consumption when the product is in use are the most significant. Work is ongoing to better plan and digitalize maintenance and service, thus responsibly reducing the product's total climate footprint.
During Covid-19 the business has adapted greatly by replacing travel with digital conferences, meetings and training sessions regarding both internal and external contacts. The aim is to run the Group's business with as low an environmental and climate footprint as possible without sacrificing Vitrolife's competitiveness.
Scope 1 covers direct emissions from the company's production facilities and Scope 2 covers electricity consumption by these facilities. Scope 3 covers emissions except purchased energy which occur outside the confines of the business. Vitrolife measures the efficiency of all scopes as emissions of CO2 in tonnes in relation to the Group's sales in SEK millions, also called the environmental index. Vitrolife's facility in Aarhus has gone over to a more renewable energy mix. In addition to these direct changes, Covid-19 has also impacted the Group's emissions and makes comparisons over time more difficult.
Vitrolife's environmental policy
Disclaimer: The use by Vitrolife of any MSCI ESG research llc or its affiliates ("MSCI") data, and the use of MSCI logos, trademarks, service marks or index names herein, do not constitute a sponsorship, endorsement, recommendation, or promotion of Vitrolife by MSCI. MSCI services and data are the property of MSCI or its information providers, and are provided 'as-is' and without warranty. MSCI names and logos are trademarks or service marks of MSCI.