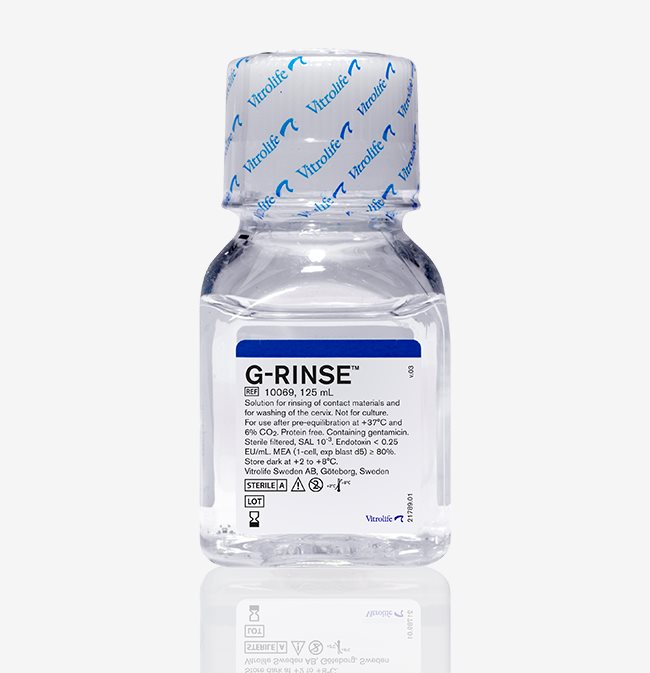 G-RINSE™
For rinsing of contact materials and washing of the cervix before oocyte aspiration and embryo transfer.
Description Bicarbonate buffered salt solution. Not for culture.
Purpose Solution for rinsing of contact materials and for washing of the cervix.
Application For use after pre-equilibration at +37ºC and 6 % CO2.
Storage Store dark at +2 to +8°C
Prepare with G-Series from the start
Use G-RINSE to test and rinse oocyte retrieval needles, wash the cervix prior to retrieval and transfer and for rinsing of contact materials. G-RINSE contains gentamicin, salts and a carbohydrate with the same osmolality as the other G-Series™ media. Rinsing with G-RINSE ensures that no dilution affects your culture.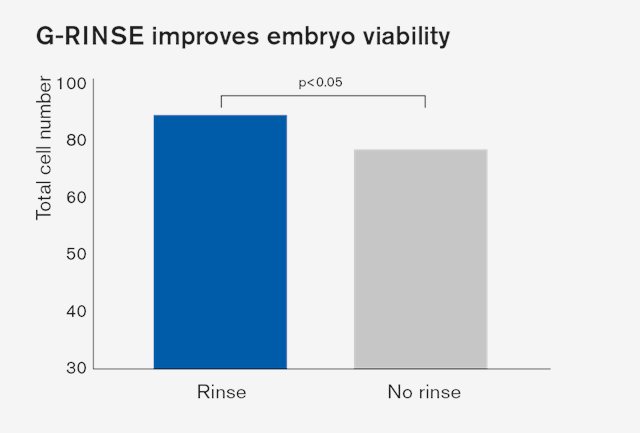 G-RINSE protects the development of the embryo
It is well known that the manufacturing process of traditional non IVF certified plastics such as dishes and test tubes may leave debris behind in the products. This debris can easily be observed floating in the dishes and tubes after adding media. These particles will adhere to the zonas of embryos when culturing or when rinsing through these disposables. This may affect the development of the embryos.
REF: Data on file. Fertility Labs Colorado, Englewood, Colorado.
Pre-rinse to improve culture systems
The viability of embryos is strongly correlated to cell numbers1. To confirm that rinsing of dishes improves embryo viability, the cell number of blastocysts were counted after culture in rinsed and non rinsed dishes.
In order to minimise the amount of debris present in plasticware, Vitrolife recommends pre-rinsing all contact materials before use whenever pos­sible. The exception would be Vitrolife Labware products, uniquely certified for human IVF.
REF: 1. D.K. Gardner and D. Sakkas, Placenta, 2003, 24, S5-S12, doi:10.1016/S0143-4004(03)00136-X. 2. Data on file. Fertility Labs Colorado, Englewood, Colorado.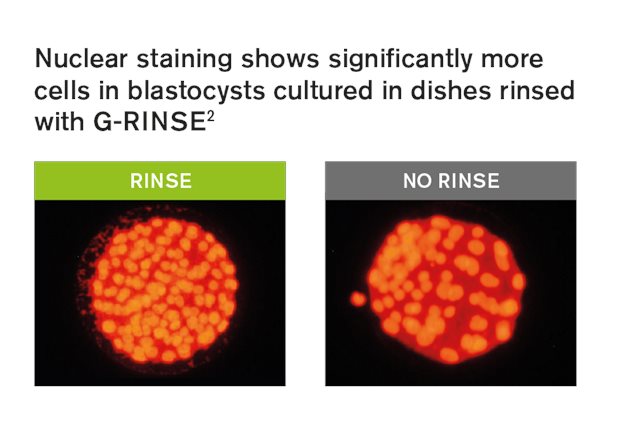 Optimise all the way with G-Series
Ensure optimal conditions before, during and after culture by using the whole G-Series. All G-Series media share the same basic composition to secure viability and implantation potential. Osmolality, pH and supporting compounds are all kept constant. This foundation prevents intracellular stresses as the embryos progress through the IVF process.
Additional documents

This manual describes how to use all media in the G-Series: G-RINSE, G-MOPS, G-GAMETE, G-IVF, G-1, G-2, G-TL, G-PGD, HSA-solution, G-MM, ICSI, HYASEx-10x, OVOIL, SpermGrad and EmbryoGlue

Short protocols - Oocyte retrieval and fertilisation assessment
This short protocol describes handling of oocytes and embryos in ambient atmosphere using G-Series™ media G-RINSE™, G-MOPS™, G-MOPS™ PLUS and G-IVF™ PLUS
Do you have a question about this product?
Find your local Vitrolife representative
Contact us
MAXIMISE SUCCESS EVERY STEP OF THE WAY
We provide what you need to secure improved results throughout the IVF journey.