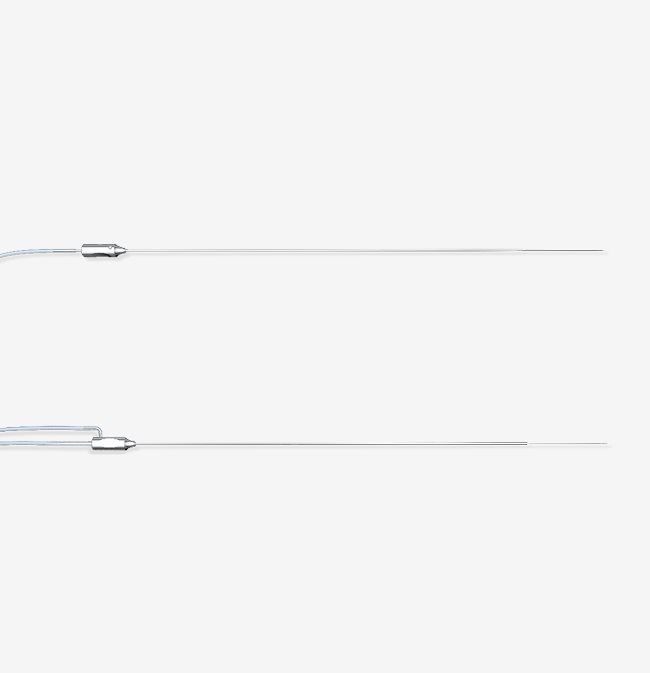 Sense™ Single and Double Lumen
Optimise oocyte retrieval performance and improve patient comfort
Description Oocyte retrieval needle
Purpose Intended for flushing and/or aspiration of oocytes from ovarian follicles.
Application For use with suitable vacuum pump, syringe for flushing (Sense Double Lumen), collection vial and vacuum pump tubing.
Storage Store at +8 to +25 °C.
A delicate procedure that requires gentle handling
The oocyte is the largest cell in the human body and is extremely vulnerable. Retrieving an oocyte exposes it to considerable stress, including transfer from the follicle, passage through the needle and tubing, and exposure to the laboratory environment.
It is also a critical procedure involving a lot of anxiety for the patient.
One way to support a successful outcome is to use a needle that enables a fast and precise procedure. This will minimise stress and ensure that the maximum number of intact oocytes can be retrieved.
Using a needle that causes minimal tissue damage will also lessen complications and patient discomfort.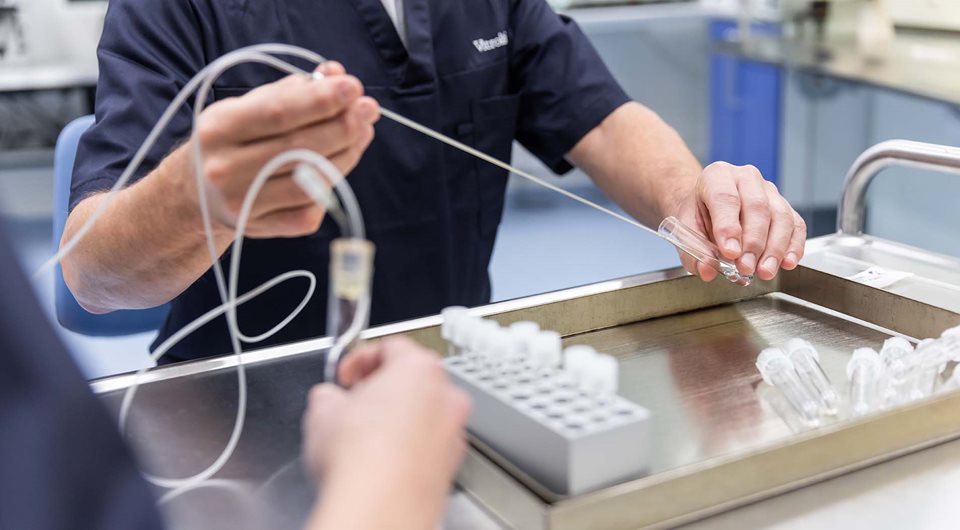 Unique design
Our needles are designed to optimise control and retrieval time and improve patient comfort.

Sense Single Lumen
The Sense needle has a 17G body and a 20G needle tip. This unique design provides ideal conditions for optimised control, aspiration time and improved patient comfort.
The reduced tip gives you the advantages of a small sized needle; less bleeding and less pain1,2,3. As only the tip is reduced, the rigidity and flow are maintained, ensuring accurate guidance while helping to maximise the number of oocytes collected.
With Sense you keep the benefits working with a conventional needle and gain the advantages of a thin needle. It makes sense.
1. Wikland M et al. Pain experience during oocyte aspiration: comparison between a newly designed reduced needle and a standard needle. Hum Reprod. 2010;25 (Suppl. 1), O-226 2. Nakagawa, et al. The effect of a newly designed needle on the pain and bleeding of patients during oocyte retrieval of a single follicle. J Reprod Infertil. 2015;16(4):207-211 3. Bing, et al. Study on the application of oocyte aspiration needle of different diameters in IVF-ET egg retrieval. Journal of Minimally Invasive Medicine, Oct 2018, Vol 7 No.5
Sense Double Lumen
The Sense Double Lumen needle has a 16G body and a 19G needle tip. The unique design makes it an ideal needle to work with and has the control and precision you need with optimal aspiration time. With Sense you keep the benefits of working with a conventional needle and gain the advantages of a thin needle.
Sense Double Lumen is based on the tried and trusted Sense Single Lumen needle, which features a reduced tip for less bleeding and pain, and a larger body for optimal precision and retrieval time. The new Sense Double Lumen gives you the same reduced tip and larger body, while also adding the possibility of easy flushing of the follicles during pick-up.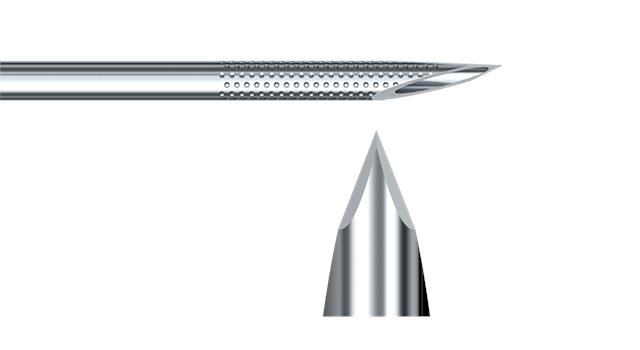 Ultra sharp design for low penetration resistance and exact precision
The needle tip is designed to meet your needs by providing extraordinary sharpness, exact precision and the utmost safety. The bevel grinding ensures low resistance penetration and distinctive backpoint grinding prevents deviation.
Innovative echo marking for perfect control
The echomarking is created through innovative laser etching giving you the high visibility you need during oocyte retrieval.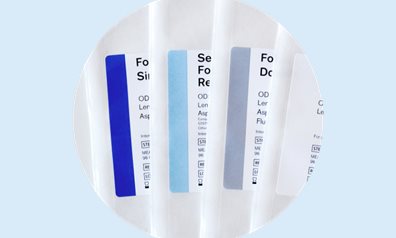 Colour coded peel-off labels
All needle labels are colour coded to simplify identification of needle type. The peel-off labels facilitate patient journal handling.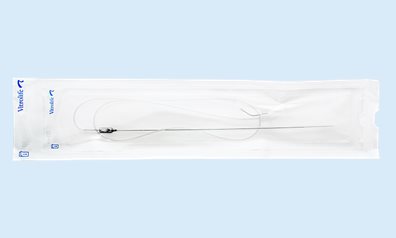 Double sterile pack to meet surgical standards
Each needle is individually packaged in a double sterile barrier to avoid contamination in the operating theatre.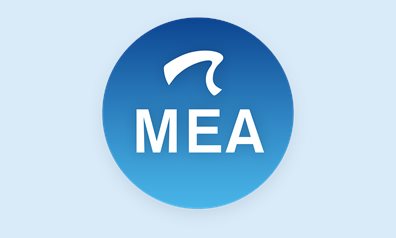 Endotoxin free
To detect toxic materials, Vitrolife has developed a very sensitive 1-cell mouse embryo assay (MEA) that follows the development of single-cell mouse embryos to hatching blastocysts. This assay is far more sensitive than the widely used 2-cell MEA.
Significantly less bleeding and pain according to clinical studies
A randomised controlled study comparing pain experience between a newly designed needle with a thin tip and a standard needle for oocyte aspiration
To prove the benefits of the unique design of Sense, a prospective, randomised, multicenter study was carried out1. Oocyte retrieval using Sense resulted in significantly less vaginal bleeding compared to a conventional needle and a significantly reduced overall pain experience – 19% lower compared to a conventional needle. Most importantly, there were no differences in the number of oocytes with intact zona pellucida after aspiration, regardless of needle size.
1. Wikland M et al. Hum Reprod. 2010;25 (Suppl. 1), O-226
Read more
This study was performed using the Sense Single Lumen needle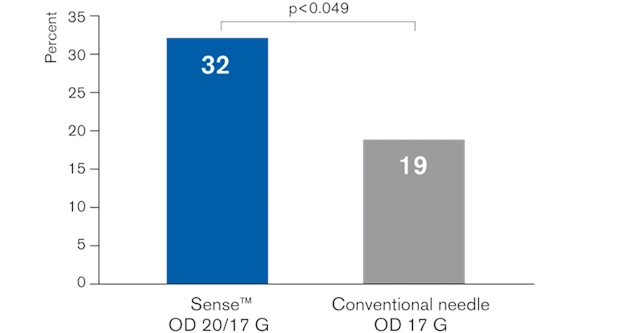 The effect of needle diameter on pain during oocyte retrieval
A randomised controlled trial, with the objective study pain in women undergoing oocyte retrieval with a reduced needle (20/17 gauge) compared to a standard needle (16¹, conclude that the use of a thinner needle results in significantly and clinically relevant lower pain scores during oocyte retrieval, and patients in the reduced needle group requested significantly less analgesia during oocyte retrieval than patients in the standard needle group. Pain scores remained significantly lower up until 2 days after the procedure.
1. Buisman E et al. 2020 In press https://pubmed.ncbi.nlm.nih.gov/33077240
Read more
This study was performed using the Sense Single Lumen needle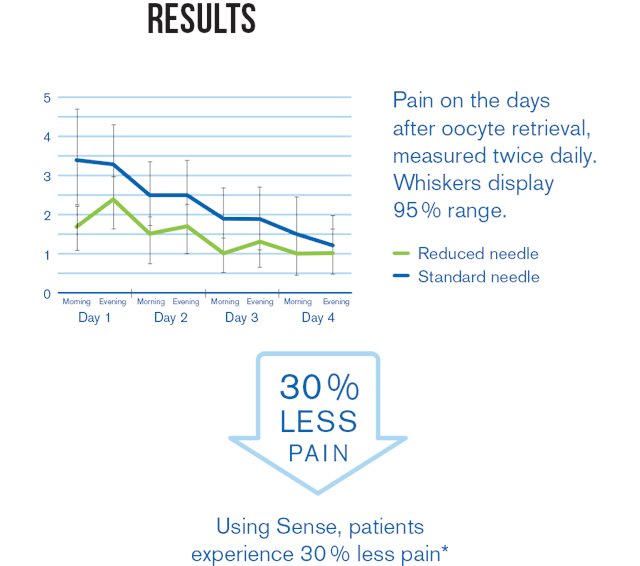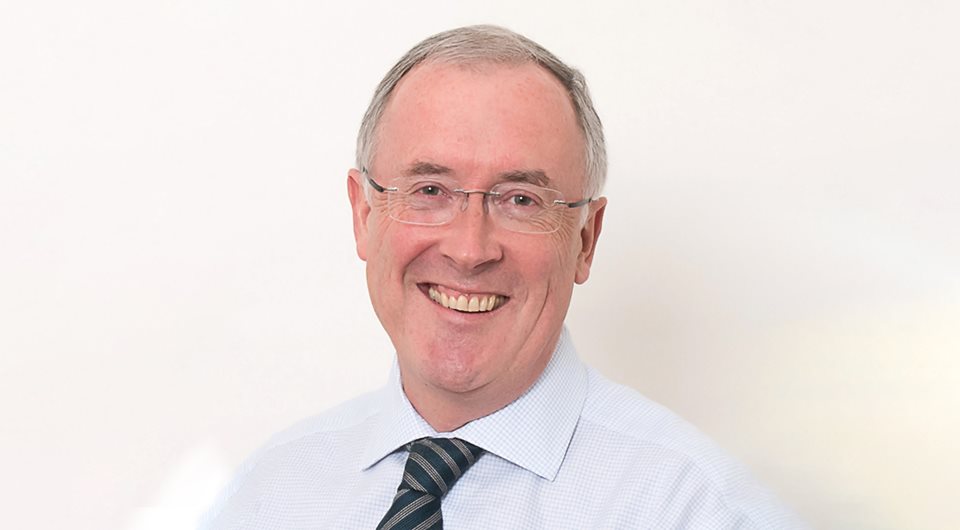 Talking SENSE™ with Prof. William Ledger
The unique design of Sense provides ideal conditions for optimised oocyte retrieval performance and aspiration time as well as improved patient comfort.
In this video Prof. William Ledger shares his expertise and experience using the Sense follicle aspiration needle during oocyte reterival.
I find using the Sense needle means less pain for the patient. Sense causes less trauma to the ovaries (which in turn reduces the possibility of postoperative bleeding).
The Sense needle also reduces the level of sedation needed. - in selected cases using the Sense I have not needed sedation at all.
- Dr Safwat Ashour, London Women's Clinic
My first choice is Sense single and double needles and the reason is simple, Sense needles are best for patients and have minimal side effects. There is less bleeding and less pain when using the Sense needles. I have no doubt that Sense needles, both single and double, are the best available today.
The only thing is that the doctor must use a special technique at OPU and the technique of learning how to use the Sense needles is very easy if doctors want to use it.
- Negjyp Sopa, Klinikchef og Vævscentersansvarlig Aleris-Hamlet Fertility, Søborg Denmark;
I use Sense for all patients and recognize its value for both my patients and myself. The clear view of the needle tip enables my control of the procedure at all times, whilst the thinner tip hasn't altered the timing for each egg collection.
I've also seen much less bleeding and pain in my patients when using Sense, which is clearly positive for all involved!
- Dr. Andrew Kan, MD., IVF Australia
(Using the Sense Single Lumen needle)
How to create optimal conditions during oocyte retrieval
Dr. Westlander, MD, PhD, is the Medical Director at Fertilitetscentrum, a private clinic in Sweden performing around 1500 IVF cycles annually. Watch a short movie where he share his experiences in how to create optimal conditions during the oocyte retrieval procedure, both for the patient and the clinician.
Watch movie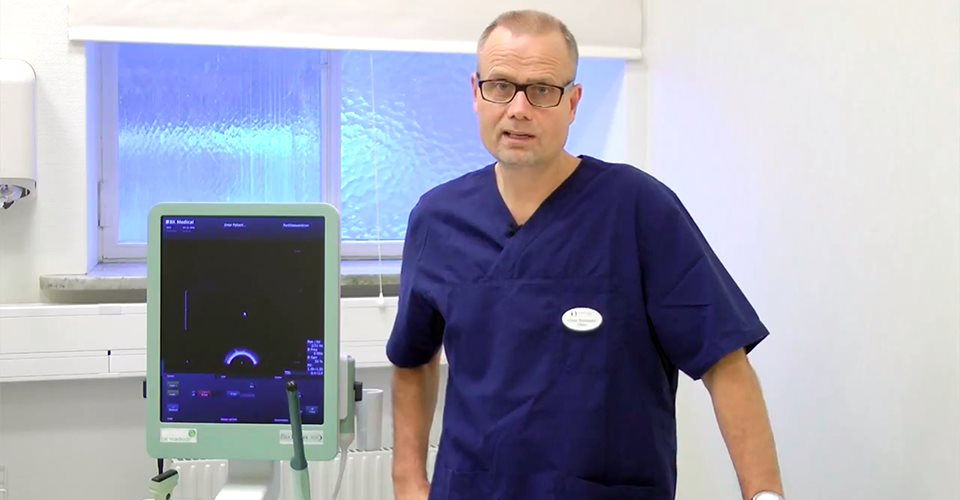 Educational material
Do you need support in how to use our products? Or do you want to increase your knowledge?
Explore more
Sense™ Single and Double Lumen
Package inserts
English
Package insert Follicle Aspiration Set
Document and Ref: REF 26019, version 05
Do you have a question about this product?
Find your local Vitrolife representative
Contact us
Maximise success every step of the way
We provide what you need to secure improved results throughout the IVF journey.