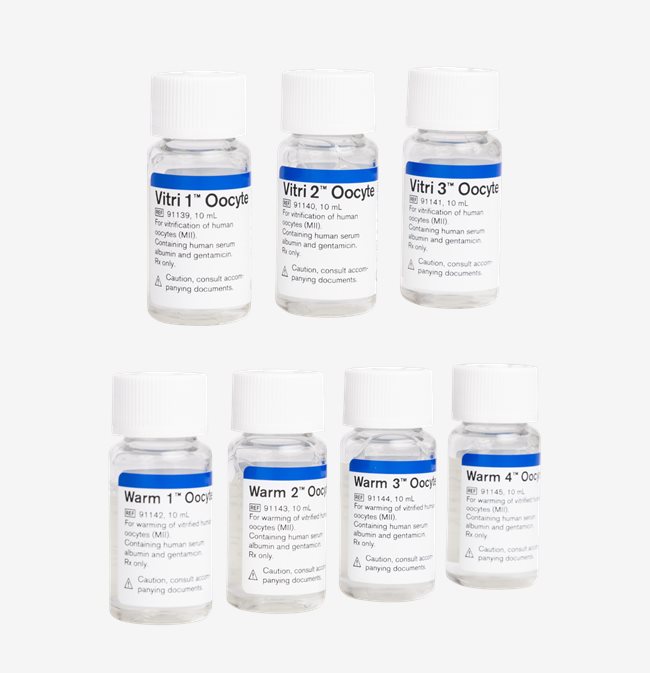 RapidVit™ & RapidWarm™ Oocyte
Specialised media for oocyte vitrification.
Description MOPS buffered media containing cryoprotectants and human serum albumin.
Purpose For vitrification and warming of oocytes.
Application For use in sequence after equilibration at +37°C and ambient atmosphere.
Storage Store dark at +2 to +8°C.
Special media for a unique cell
RapidVit Oocyte is a specialised calcium-free media for oocyte vitrification. The media was developed after extensive research on the effects of cryoprotectants on oocytes and their intracellular calcium content.
Studies show that careful control of intra- and extracellular calcium has a significant impact on the success of cryopreservation and oocyte viability.1,2
1. Larman MG, et al. Calcium-free vitrifi cation reduces cryoprotectant-induced zona pellucida hardening and increases fertilization rates in mouse oocytes. Reproduction. 2006 Jan;131(1):53-61. 2. Larman MG, et al. 1,2-propanediol and the type of cryopreservation procedure adversely affect mouse oocyte physiology. Hum Reprod. 2007 Jan;22(1):250-9. Epub 2006 Aug 12.
Excellent viability
Survival rates >90 % show that Rapid-i Vitrification System performs equally well as other systems.
Oocyte Vitrification by Vitrolife
Save time in every procedure
Working at 37 °C shortens vitrification time and minimises exposure to cryoprotectants.

Smooth workflow
Simply move the oocyte in a few short steps. Less handling reduces stress for the oocyte. A straightforward method is easy to learn and more standardised.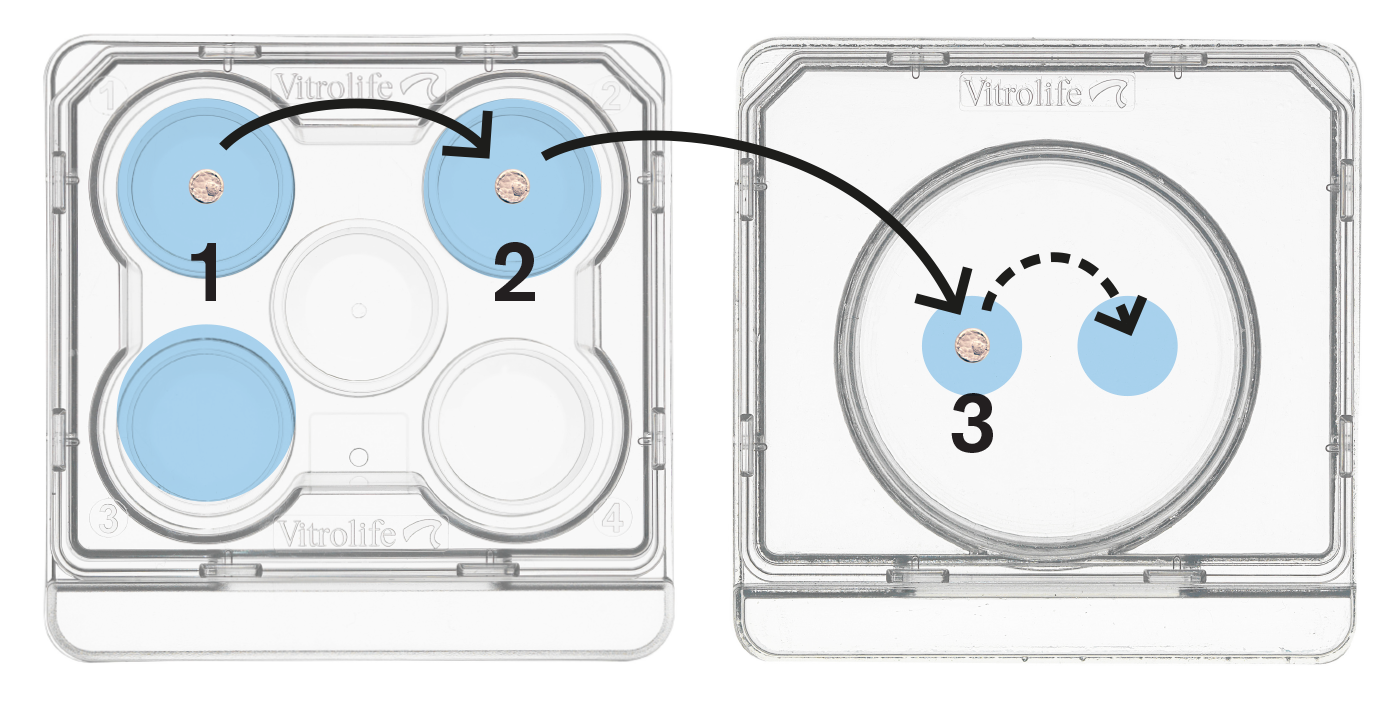 A complete system
Rapid-i Vitrification System is an aseptic and closed system. It offers a simple, safe and structured workflow. Rapid-i Kit is renowned for being easy to load. Oocytes are held in place by surface tension - no sticking to the device.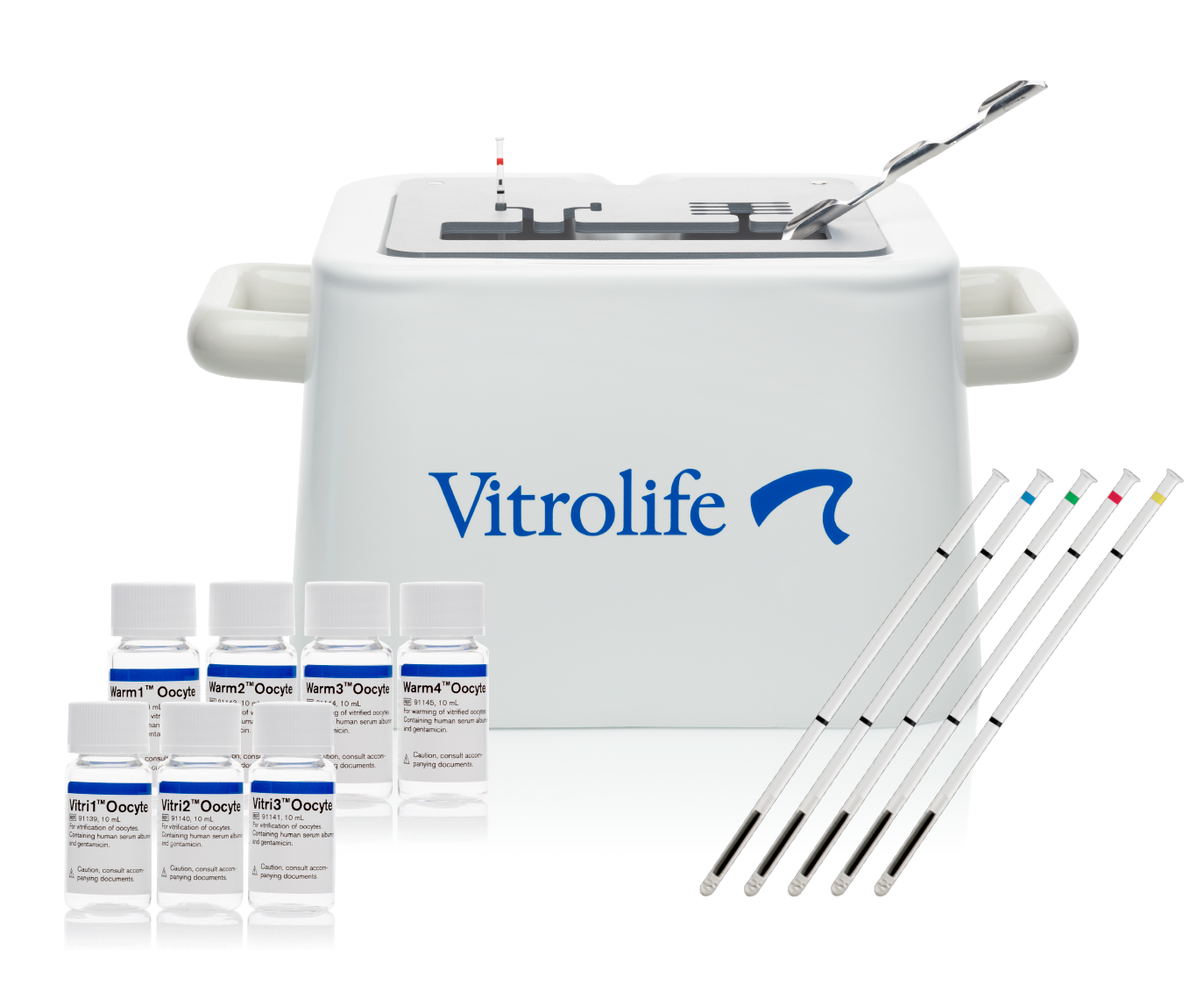 References
1. Desai NN, Goldberg JM, Austin C, Falcone T. The new Rapid-i carrier is an effective system for human embryo vitrification at both the blastocyst and cleavage stage. Reprod Biol Endocrinol. 2013 May 15;11:41.
2. Hashimoto S, Amo A, Hama S, Ohsumi K, Nakaoka Y, Morimoto Y. A closed system supports the developmental competence of human embryos after vitrification : Closed vitrification of human embryos. J Assist Reprod Genet. 2013 Mar;30(3):371-6.
3. Iwahata H, Hashimoto S, Inoue M, Inoue T, Ito K, Nakaoka Y, Suzuki N, Morimoto Y. Neonatal outcomes after the implantation of human embryos vitrified using a closed-system device. J Assist Reprod Genet. 2015 Apr;32(4):521-6.
4. Gook DA, Choo B, Bourne H, Lewis K, Edgar DH. Closed vitrification of human oocytes and blastocysts: outcomes from a series of clinical cases. J Assist Reprod Genet. 2016 Sep;33(9):1247-52.
5. Desai N, Ploskonka S, Goodman L, Attaran M, Goldberg JM, Austin C, Falcone T. Delayed blastulation, multinucleation, and expansion grade are independently associated with live-birth rates in frozen blastocyst transfer cycles. Fertil Steril. 2016 Nov;106(6):1370-1378.
6. Sciorio R, Thong KJ, Pickering SJ. Single blastocyst transfer (SET) and pregnancy outcome of day 5 and day 6 human blastocysts vitrified using a closed device. Cryobiology. 2018 Oct;84:40-45.
7. Sciorio R, Thong KJ, Pickering SJ. Increased pregnancy outcome after day 5 versus day 6 transfers of human vitrified-warmed blastocysts. Zygote. 2019 Oct;27(5):279-284.
8. Gunst J. et al, Data on file, 2019. Slow developing embryos undergoing compaction or cavitation on day 5 substantially contribute to live birth rates after single day 6 vitrified-warmed blastocyst transfer, P-135, 36th annual meeting of the Society for Human Reproduction and Embryology, 2020.
9. Balaban B, Isiklar A, Urman B, Gardner DK, Larman MG. Vitrification of human and mouse embryos using the Rapid-i. Fertil Steril. 2010 Sep;94(4): S115.
10. Pinasco M, Hickman T, Russell H, Rashiv B. Oocyte Vitrification Freeze/Thaw Survival Rates Using an Open Versus a Closed System. Fertil Steril. 2012 March;97(3):S18.
11. Machac S, Hubinka V, Larman M, Koudelka M. A novel method for human oocyte vitrification with a closed device using super-cooled air. Fertil Steril. 2013 Oct;100(3):S108.
12. Perez O, Tilley B, Navarrete G, Lay L, Little LM, Gada R, Chantilis S. Oocyte vitrification using a new vitrification medium and a new closed vitrification device. A sibling oocyte study. Fertil Steril. 2018 Sep;110(4):E179-E180.
13. Pujol A, Zamora MJ, Obradors A, Garcia D, Rodriguez A, Vassena R. Comparison of two different oocyte vitrification methods: a prospective, paired study on the same genetic background and stimulation protocol. Hum Reprod. 2019 Jun 4;34(6):989-997.

RapidVit™ & RapidWarm™ Oocyte
Package inserts
English
Package insert RapidVit Oocyte

RapidVit™ & RapidWarm™ Oocyte
Package inserts
English
Package insert RapidWarm Oocyte

RapidVit™ & RapidWarm™ Oocyte
Short protocols
English
Short protocol - Rapid- i™ Vitrification of oocytes
This short protocol describes how to vitrify and warm oocytes using Rapid-i™ vitrification system and RapidVit™/RapidWarm™ Oocyte.

RapidVit™ & RapidWarm™ Oocyte
Safety data sheets (SDS)
English
Safety data sheet for RapidVit Oocyte

RapidVit™ & RapidWarm™ Oocyte
Safety data sheets (SDS)
English
Safety data sheet for RapidWarm Oocyte
Do you have a question about this product?
Find your local Vitrolife representative
Contact us
MAXIMISE SUCCESS EVERY STEP OF THE WAY
We provide what you need to secure improved results throughout the IVF journey.