Making time-lapse a standard of care
Make the best choice
The desire to observe embryos regularly in order to make accurate assessments, while minimising disturbance to avoid stressing them, has been a long-standing dilemma. Time-lapse technology solves this problem by giving you continuous observation in an undisturbed culture.
Once taken, acquired images can be played as a film that can be analysed at the clinic and remotely. Without time-lapse, embryos must be taken out of the incubator to be assessed, exposing them to unnecessary stress and fluctuations.
Improved ongoing pregnancy rate using EmbryoScope and Primo Vision

Improving success rates
Time-lapse technologies by Vitrolife have been shown in multiple clinical trials to improve clinical outcomes versus traditional evaluation. Increase in implantation rate as well as decrease in early pregnancy loss have been published as RCTs1,2, in scientific reports as well as shown in numerous abstracts at international scientific meetings. With an estimated 800.000 clinical cycles having been performed using our time-lapse systems you can be sure that you have the most experienced time-lapse technology team backing your clinical practice.
1. Rubio, I. et al.; Fertil Steril (2014): 102(5): 1287-1294.e5
2. Matyas, S. et al.; Hum. Reprod. (2015): 30(suppl 1): i119
Improving culture using time-lapse incubation
With time-lapse, evaluation of embryos does not involve removing embryos from the stable incubation environment. This eliminates potential handling stress, resulting in better embryo development.2,3
2. N. Zaninovic et al. Fertil Steril (2013): 100(3):S240: Impact of oxygen concentration on embryo development, embryo morphology and morphokinetics.
3. Zhang, J.Q., et al., Reduction in exposure of human embryos outside the incubator enhances embryo quality and blastulation rate. Reprod Biomed Online, 2010. 20(4): p. 510-5.
Improving embryo evaluation
See what you've been missing. Achieve improved selection, or de-selection, of embryos by a combination of discovering both morphological and morphokinetic parameters. Important parameters such as the dynamic morphology, critical cleavage patterns and morphokinetics can only be observed with time-lapse technology.
The use of time-lapse significantly improves live birth rates and reduced early pregnancy loss rates
In a recent meta-analysis, eligible randomised controlled trials, which compare culture and evaluation using time-lapse systems with traditional embryo incubation and evaluation, were analysed to assess the effect of time-lapse.1
1 Pribenszky et al: Reprod Biomed Online (2017) 35(5): 511-520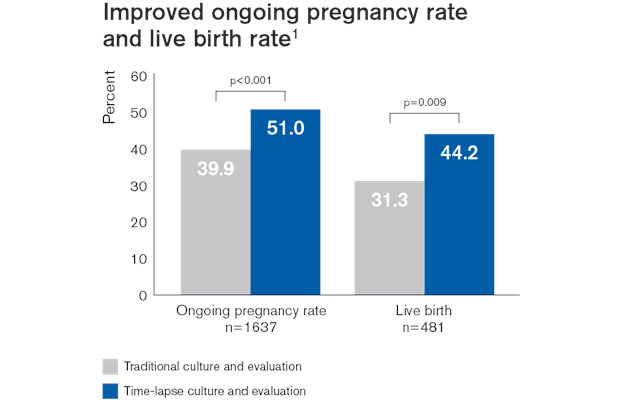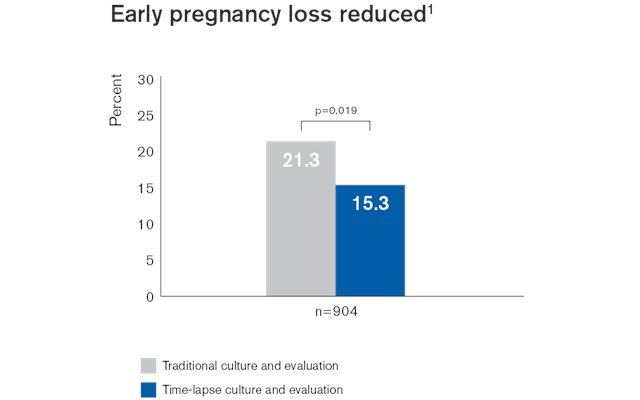 Recently, the meta-analysis has been updated to include subsequently published randomised controlled studies in which time-lapse was used as a full system and live birth data was reported. This new meta-analysis strengthen the evidence of increased live births with the use of time-lapse systems on an intention to treat basis (n=1945, OR: 1.56, CI: 1.30-1.88, p<0.001)2
Importantly, the early pregnancy loss rate was significantly reduced with the application of time-lapse technology (relative reduction: 28%).
2 Pribenszky et al: Reprod Biomed Online (2018) 36(3): 290-292
Everything you need for time-lapse


EmbryoScope+
EmbryoScope+ meets the needs of clinics wishing to implement time-lapse as a standard of care to more of their patients. EmbryoScope+ has more than double the patient capacity, compared to other bench-top time-lapse systems. EmbryoScope+ is ideal for clinics who wish to offer time-lapse to all of their patients.
Making time-lapse standard of care with EmbryoScope+
EmbryoScope+ is designed to meet the needs of clinics wishing to implement time-lapse as a standard of care to more of their patients.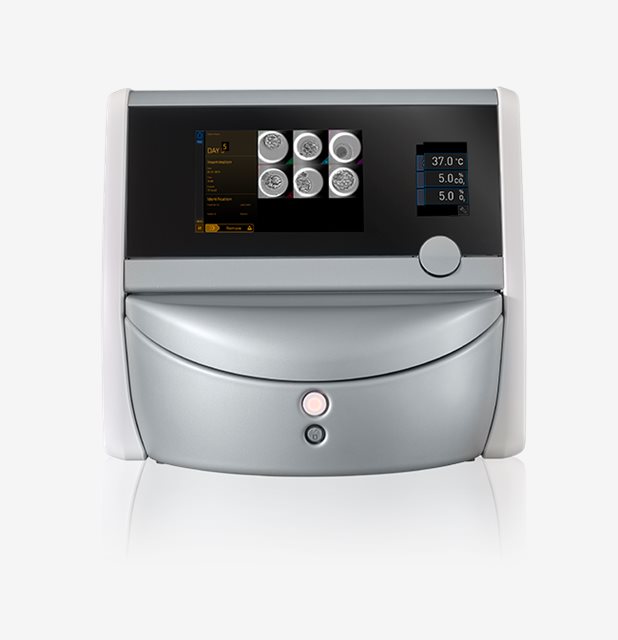 EmbryoScope Flex
Based on the same design as EmbryoScope+, EmbryoScope Flex gives you the flexibility to treat a wider profile of patients to support time-lapse as a standard of care. Different patient groups and stimulation protocols result in a range of oocytes collected in each cycle. No matter how few or many embryos you need to culture, EmbryoScope Flex provides an ideal solution to culture all your patients' embryos in one incubator.
Learn more
EmbryoScope 8
Optimise embryo development and evaluation with our additional time-lapse system that builds on the same foundations as our EmbryoScope and EmbryoScope+, the world's most used time-lapse system for IVF since 2009.
EmbryoScope 8 can simultaneously acquire time-lapse videos from 8 patients with up to 16 embryos each, making it ideal for smaller clinics who wish to offer time-lapse to more of their patients.
Patients are automatically registered in EmbryoScope 8 via barcode labelling and an overview of all patients by incubation day is immediately available. Data generated from EmbryoScope 8 can be analysed in the EmbryoViewer software, using time-lapse analysis of embryo development to improve evaluation.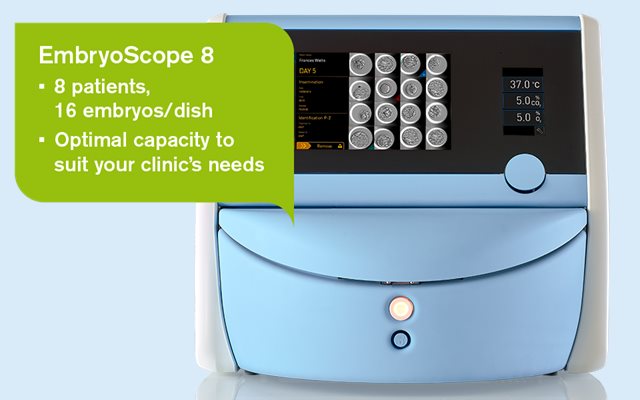 WHICH TIME-LAPSE SYSTEM IS RIGHT FOR YOU?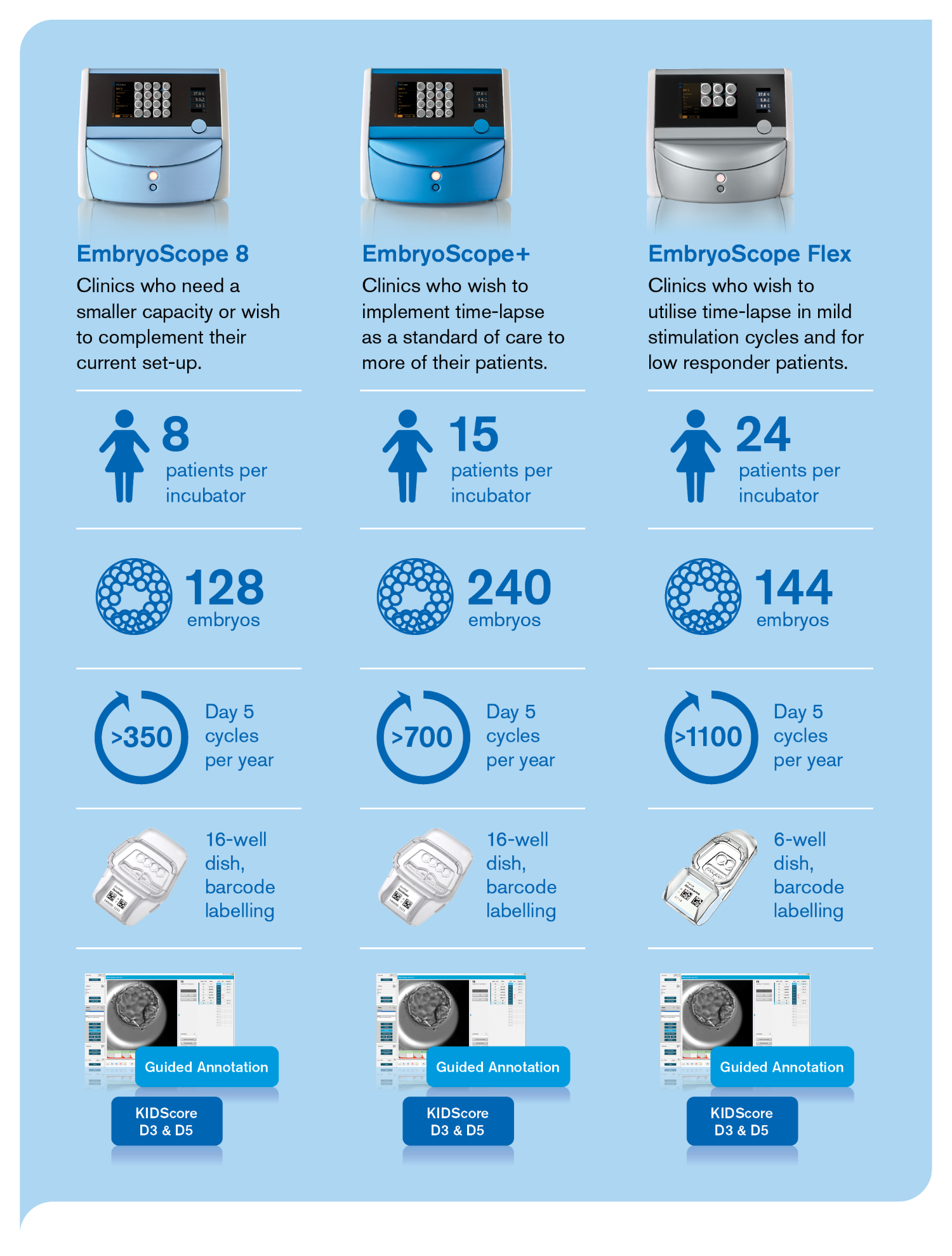 Add intelligence with Guided Annotation
Guided Annotation* is an added, optional tool in the EmbryoViewer software designed to provide a simplified annotation workflow. Based on artificial intelligence, Guided Annotation provides a perfect balance of control, accuracy and efficiency – ensuring fast, precise and consistent analysis of embryo development based on your needs for information before embryo selection.
Learn more about Guided Annotation
Ensure consistent evaluation of embryos with Guided Annotation
With the extensive amount of image information acquired by the EmbryoScope time-lapse system, every stage of development of each embryo can be observed. Guided Annotation ensures that you collect exactly the amount and type of embryo development information that is necessary for you to evaluate which embryos are most suitable for transfer and/or freezing.
By implementing intelligent software tools and artificial intelligence, Guided Annotation makes embryo annotation fast, efficient and precise and allows you to have complete control of the level of automatisation. A confidence estimate allows you to automate annotations that have a high confidence level and prioritise validation of annotations with low confidence.
KIDScore – a decision support tool based on known implantation data
Improve your embryo evaluation and enjoy immediate benefits of time-lapse-based embryo analysis with KIDScore, for transfer on Day 3 or Day 5*. KIDScore assigns an objective score to each embryo. The scores reflect implantation potential and provide consistent and effective support for embryo selection.*
*KIDScore D5 is restricted to reduced oxygen culture.
*This product has not received 510(k) clearance.
Learn more about KIDScore
EmbryoScope - with integrated incubator
Ensure optimal embryo development with EmbryoScope where a state-of-the-art technology enables a stable culture environment for embryos. Temperature is tightly regulated by direct heat contact and air is continuously purified through a HEPA/VOC filter. An integrated gas mixer allows the implementation of reduced oxygen conditions easily and economically. Small incubation chambers allow rapid recovery of culture conditions after door opening.
pH validation dish for EmbryoScope+
Ask your local supplier for more information
G-TL time-lapse culture medium
Time-lapse technology has allowed IVF professionals to minimise handling stress. In order to take this concept to the next level, a culture media has been developed specifically to support fully undisturbed embryo culture conditions.
G-TL was the first single step culture media specifically designed and validated to support human embryo culture in a time-lapse environment.
Learn more about G-TL

A proven technology
Time-lapse by Vitrolife is a well-documented technology and proven to increase IVF success in multiple clinical studies.
As of spring 2018 we estimate the total number of IVF patients who have been treated using time-lapse technology from Vitrolife exceeds 1.000.000.

Everything you need
Be sure to have a complete solution for your clinic when partnering with us. Our portfolio of time-lapse systems is flexible and based on the needs of your clinic. Including state-of-the-art analytical software, culture dishes and a specially formulated time-lapse medium. The entire portfolio is backed by extensive support and documentation.

CE and FDA cleared
EmbryoScope and EmbryoScope+ time-lapse systems are CE marked as Class IIa medical devices and are both FDA 510k cleared. The Primo Vision system is CE marked as an IVD and CFDA cleared. KIDScore is a trademark of Vitrolife Group.


Safe and easy handling
The Primo Vision micro well group culture dish can be used to culture up to 16 embryos. EmbryoSlide dish for EmbryoScope offers individual microwell culture of up to 12 embryos whereas EmbryoSlide culture dish for EmbryoScope+ holds up to 16 embryos. Now you can also validate pH in EmbryoScope+ with our new pH validation dish.
MAXIMISE SUCCESS EVERY STEP OF THE WAY
We provide what you need to secure improved results throughout the IVF journey.